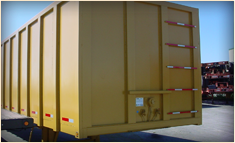 Sandblasting and painting
POLTrailer customizations for trailers - salvaged and new, are insured. The sandblasting techniques and engineering we incorporate into our trailer jobs are licensed and registered with local authorities and the Department of Transportation. We use only the latest technology and techniques in sandblasting to ensure that your trailer gets a quality upgrade.

Our team that handles this segment of trailer remodeling is specially trained in the usage of equipment upgrade and to deliver job finesse that is guaranteed. POLTrailer engineering in sandblasting is one of the best in the industry and we don't claim this for ourselves, rather invite you to take a look at the referrals given to us from our corporate clientele.

Sandblasting for trailer work is an art that we excel in. Our engineers are renowned for the trailers they salvage from yards and the conversion of trailer space to fit different commercial needs. We offer you solutions that are:

· Cost effective
· Insured
· Guaranteed for satisfaction

The POLTrailer promise is service that enhances trailer performance and adds real value for money.