Building

scrap trailers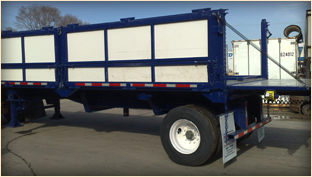 POLTrailer offers you customized trailer building alternatives to capitalize on the trailer space on hand. We ensure that the trailer you have is the vehicle of optimum value within your fleet. A complete building job by the POLTrailer team comprises:

· Restructuring internal space and external add-ons
· Painting
· Sandblasting
· Improvisation of trailer utility via specially developed in house solutions
· Guaranteed and insured environment friendly trailer upgrades

Our trailer building services are reputed for dot-on completion, each time, every time. To this end, every building job comprises detailed inspection of the trailer, careful listing of building alternatives, suggestions and advice on cost effective solutions, blue print of the job summary, and setting of deadlines. At POLTrailer you avail of services that are delivered at your convenience. We partner your endeavor and make the trailer utility our business.

The POLTrailer building plans are carefully crafted in house, and under your supervision. Beyond in house professionalism, we help you design the trailer according to your business specific and/or personal needs. Get the POLTrailer advantage today!